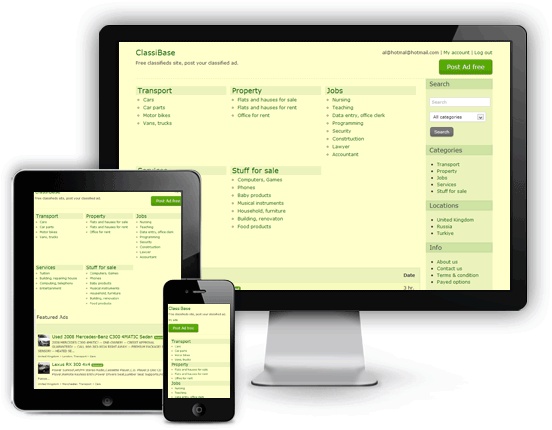 Classifieds site building made easy. Have you ever wanted to build your own classifieds site to fill gap in your community and/or earn some income but don't know how to start and build such site? If yes, then ClassiBase classifieds script is made for you.
Plans and prices Try demo View changelog
Why choose ClassiBase ?
Build with simplicity in mind
Flexible for adding any type of listing with custom fields
Multilingual and SEO friendly PHP Classifieds script
Responsive design for mobile phones and tablets (80% of users access classifieds sites using mobile devices)
Earn money with featured ads, paid categories or third party contextual advertisement.
Build online classifieds websites similar to Craigslist, OLX, Gumtree, Avito.
---
User Features
Simplified ad posting
Ad posting can be done without registration then users will be registered after email address verification.
Featured ads
Featured ads can be displayed in top of related category, sidebar or homepage with use of widgets.
SEO friendly
Site URLs made simple and readable. Urls for category and location can be customized to fit your requirement.
Custom ad fields
Custom fields can be configured per location and category bases applying for all sub categories. It makes classifieds script flexible for adding variety categories. For example properties can have fields like number of rooms, floor and amenities. While cars category can have engine size, transmission type, mileage etc. view tutorial

My listings
Every user can view their listings, edit them, promote, extend if expired.
Payment History
As part of transparency policy Payment History allows users to keep track of all payments made through your site acting as convenience for users and protection for you against groundless claims.
Search options
The software offers simple search form for general search by category and search refinement with custom fields for category specific searches.

Print version
ClassiBase themes are designed to print any page stripping out unnecessary information. Leaves page with the most important listings details: a main picture and all information about a listing including contact details.
Mobile version
Provides availability of your site on mobile devices making browsing web contents for your mobile users easier and faster. Mobile version is built into theme and will scale depending on viewing width of mobile device.
Multilingual support
Categories, locations, custom fields, pages and user interface can be multilingual. Ads will be in language that users post them. It is useful if users in some countries speak in several countries like countries from CIS.
Admin Features
Multilevel categories
Our Software has no limits for categories/subcategories and you can add as many as you wish. Category widget can be displayed on front page and sidebars listed with dynamic or fixed level of depth.
Advanced category manager
ClassiBase features an advanced category manager that gives you the ability to add/edit/remove categories/subcategories, build unique and seo-friendly URLs, downgrade categories to subcategories, lock categories.
Listing types
A set of basic configurations offers flexibility for adding unrelated types of listings like jobs, properties, transport etc, with each of a having independent custom fields. This feature is vitally important to those who want to make a classifieds portal with lots of different sections.
Listing visual settings
Listing in each category can be configured to have selected custom fields to make it easy to view important information. For example in property listing you can view number of rooms in listing pages.
Moving an ad to another category
If a user made a mistake by adding his listing to a wrong category/subcategory or you believe that a listing should be moved to another category you can easily do it with a few clicks in the admin panel. In case custom fields do not match with new category then related fields will be available upon saving that ad.
Listing manager
Listings in the manager are arranged into a user-friendly grid with all functions ready to be used and displaying the most important information about listings in the grid. It also provides such important abilities as contact listing owners from the Listing Manager and filter listings by a number of criteria.
Listing auto approval
Gives you the ability to manually manage newly added listings, in particular approve of new listings, auto approve listings of previously approved users, edit all listing details, auto detect ads with offensive content using spam filter and hold for moderation .
Home page content builder
Home page can have categories, latest ads, featured ads or any other available widget.
Earning Options
Paid categories
Categories can have individual posting fee. You can make all categories free to post, all paid to post or some categories paid to post. Price can be set per location and category bases and will apply to subcategories.
Featured ads
Featured ad fee can be set for selected categories individually and will apply to subcategories. Featured ads will be listed at top of related category and can be set to display in prominent locations using widgets as well can be listed on front page.
Payment processing
Payments processed via PayPal which accepts credit and debit cards as well.
Banner or contextual ads
Sidebars can have any html/JavaScript code provided by third party advertising networks like AdSense, buysellads or custom banner ads.
Learn more about online classified website monetization → .
---
Classifeids Software Showcase
Naydizdes.com – Popular Online Classifieds ads website in Russian language offering free listings.  Site has user interface in 4 languages and can be viewed as good example of multilingual classifieds website. Website with 15k ads uses online classifieds software and generates 200k pageviews each month.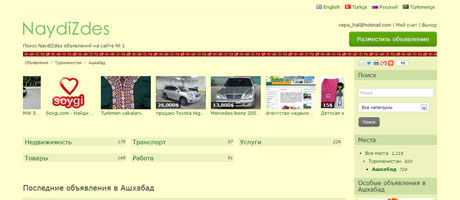 Latest Classibase Themes
All classified website themes adapt to your mobile phone and offers best front end for desktops and phones. Our classifieds software has 5 custom themes that will let you design your website. Themes has many widget areas to add custom PHP/HTML code or to list additional classified ads.
Classifieds Script Testimonials
"Thank you. It works perfectly! That's exactly what I wanted."
"First of all, congrats, this is a great script., and can fit almost 100% in my needs."
Server requirements for online classifieds software
PHP version: 5.x, 7.x, 8.x
MySQL database
MySQLi module for PHP
GD module for PHP
Apache (with mod_rewrite) or Nginx web server
Recent classified ads script posts
We constantly improve our script and keep it up to date with new technologies and devices. View Classibase change log for latest updates to the script.