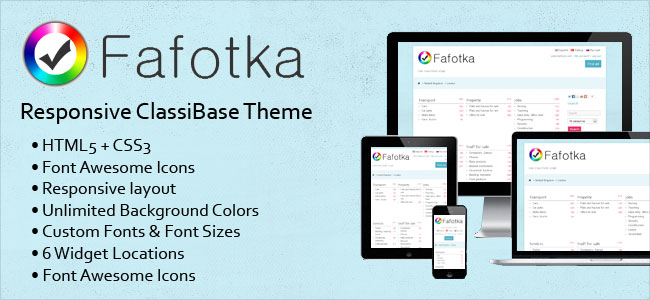 Fafotka  is a clean and responsive classifieds theme for ClassiBase, perfect for your website. The theme has seemingly tons of options thanks to the beautiful design, multiple intro styles, unlimited background options, font options, clean code that has been SEO optimized, support for breadcrumbs and much more.
Tons of Great Features
We've added tons of great features and options to the Fafotka  responsive theme. But at the same time we've tried to only include the features we know you want without the bloat. Have a look at the list of features below and you will see why you'll have to use this theme today.
Responsive: Fafotka is fully responsive! The theme has been designed to look great on all types of mobile devices and browsers. Test it out on your iPad, iPhone or Galaxy S III to see for yourself.
Unlimited Colors: With Fafotka you can choose any color you want as your background, gradient high/low colors, and you can individually set the hex value if you want. This way you can fully customize the color scheme of your theme.
Powerful Theme Options: Fafotka comes loaded with options for just about everything. Choose colors, select fonts, upload a logo, upload background, activate the pre-built color preset, and much more from the theme customization panel. Fafotka is easily customized to create the website of your dreams.
And More!: We plan to provide regular updates and new features as we see fit. Thank you for any suggestions and of course your purchase!
Fafotka Responsive ClassiBase Theme Features
Compatible with ClassiBase 1.3.2
Responsive layout
Custom logo option
Unlimited Background Colors
Pre-defined Background Patterns
Custom Image Background Option
Custom Text Editor Font Sizes
Custom gallery Styling
Full-width Page Template
Left Sidebar Page Template
Right Sidebar Page Template
6 Widget Locations
HTML5 + CSS3
Font Awesome Icons
Fafotka Responsive Classifieds Theme Updates
Version: 1.9.6 (2021.11.21)
Version: 1.9.5 (2020.10.18)
Added custom HTML lang attribute
Version: 1.9.4 (2020.08.07)
Version: 1.9.3 (2020.04.29)
Updated schema markup to JSON-LD
Version: 1.9 (2018.04.25)
Added support for script version 1.9
Updated, combined, minified js and css files
Version: 1.8 (2018.03.02)
Added support for script version 1.8
Added ad view count
Version: 1.7.8 (2015.04.17)
Update jquery and colorbox versions
Removed addthis integration
Added support for script version 1.7.8
Version: 1.7.6 (2014.09.11)
Added support for script version 1.7.6
Version: 1.6 (2014.04.19)
Added support for script version 1.6
Version: 1.5.1 (2014.03.07)
Fixed chain menu focus bug
Version: 1.5 (2014.03.02)
Added support for script version 1.5
Version: 1.4.7 (2014.01.27)
Added support for script version 1.4.7
Version: 1.4 (2014.01.20)
Added support for script version 1.4.6
Version: 1.3 (2013.09.23)
Added support for script version 1.4.4
Version: 1.2.1 (2013.09.02)
Fixed other contact of field on ad page
Version: 1.2 (2013.08.30)
Added support for script version 1.4.2
Version: 1.1 (2013.08.20)
Added support for script version 1.4
Version: 1.0 (2013.04.15)