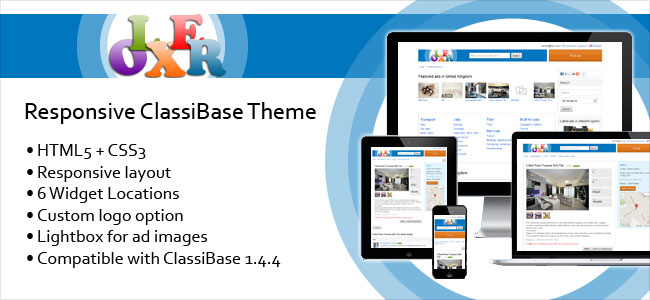 Olxer  is a clean and responsive classifieds theme for ClassiBase, perfect for your website. The theme has seemingly tons of options thanks to the beautiful design, clean code that has been SEO optimized, support for breadcrumbs, some great custom widgets and much more.
Design is kept simple and made similar to popular classifieds website Olx.
Lots of Great Features
We've added tons of great features and options to the Olxer responsive theme. Have a look at the list of features below and you will see why you'll have to use this theme today.
Responsive: Olxer is fully responsive! Your classifieds website will look great on any device desktop, tabled and mobile phone. With growing usage of mobile devices your website will fit perfectly to latest popular mobile devices including iphone 5 and galaxy S4.
Unlimited Custom Colors: Theme has built in color customization with preset color schemes. You can make your classifieds website look unique with unlimited colors, background image and font combination.  Colors are selected with color picker and theme preview is generated automatically while you designing your classifieds theme.
Clean design: We kept design simple and clean so that your visitors will not be destructed and focus on content. Content and widgets are clearly separated with slim gray border keeping your site clean.
Powerful Theme Options: You can upload your own logo, decide if you want to display general search on top and sidebars on ad item page.
And More!: We plan to provide regular updates and new features as we see fit. Thank you for any suggestions and of course your purchase!
Olxer Responsive ClassiBase Theme Features
Compatible with ClassiBase 1.4.4
Responsive layout
Custom logo option
Unlimited colors
Lightbox for ad images
Left Sidebar Page Template
Right Sidebar Page Template
6 Widget Locations
HTML5 + CSS3
Supported widgets include Google maps, featured ads carousel, ads thumbnail gallery, related ads, locations, categories, custom search form and other standard widgets.
Olxer Classifieds Theme Updates
Version: 1.9.6 (2021.11.21)
Version: 1.9.5 (2020.10.18)
Added custom HTML lang attribute
Version: 1.9.4 (2020.08.07)
Version: 1.9.3 (2020.04.29)
Updated schema markup to JSON-LD
Version: 1.9.2 (2019.01.08)
Fixed not visible checkbox custom fields on ad view page. (ref)
Version: 1.9.1 (2018.05.05)
Version: 1.9 (2018.04.25)
Added support for script version 1.9
Updated, combined, minified js and css files
Version: 1.8 (2018.03.02)
Added support for script version 1.8
Added ad view count
Version: 1.7.8 (2015.04.17)
Update jquery and colorbox versions
Removed addthis integration
Added support for script version 1.7.8
Version: 1.7.6 (2014.09.11)
Added support for script version 1.7.6
Version: 1.6 (2014.04.19)
Added support for script version 1.6
Version: 1.5.1 (2014.03.07)
Fixed chain menu focus bug
Version: 1.5 (2014.03.02)
Added support for script version 1.5
Version: 1.4.7 (2014.01.27)
Added support for script version 1.4.7
Version: 1.3 (2014.01.20)
Added support for script version 1.4.6
Version: 1.2 (2013.10.05)
Added default colors as color scheme
Version: 1.1 (2013.10.04)
Added color, font and background image customization. Also has preset color schemes.
Version: 1.0 (2013.09.27)