How to Monetize Classified Ads Website?
Having classified websites is fun because it supports people and businesses around you. Apart from that successful classified ads website needs to be profitable. Be profitable for continuing to provide value in your community with proven and tested tactics. Learn every aspect to monetize a classified ads website.
Main reason for having classified websites is earning money. Even the no for profit website Wikipedia encyclopedia needs money to operate and support its growth.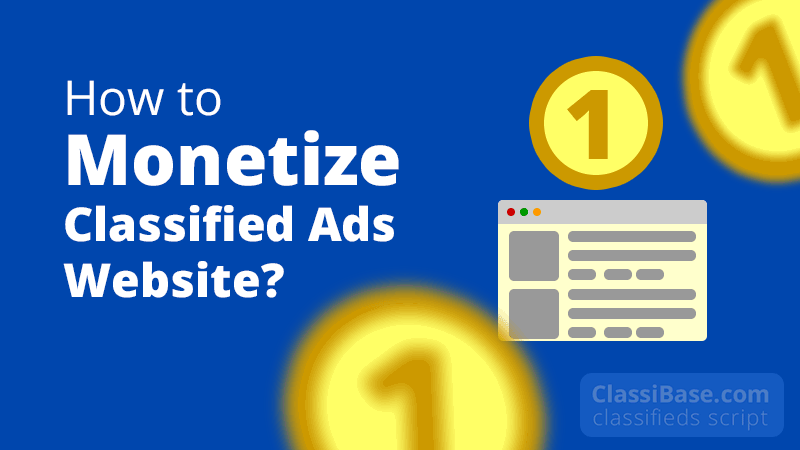 5 ways to monetize Classified Ads Website
There are plenty of ways to monetize classified ads websites. Let's look at each each of them closely.
Paid listings: Also known as paid ads, paid categories. Sellers pay for posting classified ads. Monetize some popular categories to reduce spam and get more serious sellers. For example categories where businesses post listings actively like property for sale, property for rent, cars, premium services etc. To choose a category on your classifieds website to make "Paid category" search for most actively posted categories. Also moderate your postings so sellers do not post their listings to other free categories. You can make either all categories in all locations paid or selectively make certain categories in certain cities paid. You can set different paid listing price per category.
Featured listings: Also known as VIP, pro or premium listings. For very crowded categories sellers want to stand out and get more exposure by making their listings featured. Seller will get more calls, sell more items, get more job applications, get more attention to their offerings. Featured listing also can be set per category with different period and different price per each category. Learn more how to sell featured listings, how to promote it, how to grow your social presence, use alternative mobile payment system.
Banner ads: Display top sellers in more prominent locations on your classifieds website. Banner ads are more visible preferable in all pages. This means even more exposure for sellers. Banner price should be high to reduce number of banners. Preferable banners should point to pages or ads on your own classifieds website. This way users stay on your website while buying from your advertiser. Learn how to monetize classifieds website with banner ads and price them accordingly.
External ads: Site visitors see relevant ads and when they click you earn money. This can be contextual ads, Google AdSense ads, banner ads from other ad networks. This is easiest and most passive monetization option for classifieds website. All you have to do is to get more traffic and put some external ads. Classifieds website is initially a place where users want to buy products or cervices. Good contextual ads platform like Google AdSense can bring good amount of income for your website. Learn how to place AdSense ads on your classifieds website, find best performing ad formats and positions, learn how to place popup ads.
Services: Classifieds website can offer services for extra payment. Services can be provided by your own staff or can be outsources to other companies with revenue sharing. Popular services for classifieds websites are:

Ad posting with onsite dedicated staff: Staff visits client location for property or item listing. Paid staff can take professional photos, shoot high quality promotional video, decorate item for better presentation. This is usually done for premium items and properties.
Item delivery: When sellers list items they can choose sale with delivery option. Then you pick item from seller and deliver to buyer. Buyer can check item before paying and accept it. This is a convenient way for buying used items. It may be difficult for big locations. You need to make it profitable and not expensive for sellers and buyers.
Item quality checking: Service that checks item quality for seller. Item will be posted with quality score so buyers can be assured. This is usually used for car or electronic gadget listings.
Why do you need money to operate a classified website?
Having a successful website you need to cover your web hosting, ad moderation by staff or yourself and website promotion costs you need to earn money to support yourself and your family.
Think about your website as business. Every business needs to be profitable to exist and to continue providing value to the community. It would always be a win-win situation. Otherwise your classified website is doomed to be a failure in future.
7 Reasons for classifieds website monetization:
Earn back initial investment for building classifieds website.
Pay for hosting and domain yearly expenses.
Pay moderators for monitoring your classifieds website listings.
Budget for classified website paid promotion with banners and ads.
Pay for staff to operate your social media accounts.
Research and add new features to your website.
Constant web server optimization expenses
How does a classified website make money?
Classified ads website makes money by operating as a platform for meeting sellers with buyers. We explained 5 different ways to monetize classifieds website.
With some of those methods like paid ads, featured ads, banner ads you do not need too much traffic. Website with 10k pageviews can start generating some income.
For contextual ads you may need more than 100k page view to make considerable amount of income.
Start to monetize your classified website
Read these detailed tutorials with step by step action points to earn money with your classified website and be a successful online business.