Google AdSense is the simplest way to monetize your classifieds site. Ads will be filled automatically by google. You do not have to look for advertisers or negotiate with businesses. AdSense handles all hard work for you and shows contextual ads related to your pages.
There are several places to put Google AdSense to your classifieds website. In this article we will discuss best places to put ads, types of automated ads, how to use widgets for displaying ads depending on page type.
On ClassiBase every theme has different widget areas where you can place AdSense ads. But first of all you need to register for AdSense and get approved.
3 Steps to Add AdSense to Your Website
Set up your classifieds website.
Apply to AdSense and get approved. Read detailed guide from google.
Copy and paste the AdSense code onto your site.
We presume that you have a classified ads website and registered with AdSense and approved. Now let's see where to place those ads.
Where can Google AdSense be placed?
Main goal of placing ads is to monetize your classifieds website without annoying your users. Place ads so they are visible but not intruding on your main website content. Also make sure that ads are blended with your content, visible on page without scrolling. Pay attention to not putting too many ads on one page.
Best performing ad locations for classifieds website
Automated vignette ads (full screen popup ads) for mobile and desktop devices.
Responsive rectangle 300x250 ad unit after ad listings on category and ad pages.
Make sure to always choose a responsive ad unit because most users of classifieds websites use mobile phones.
To find best performing ad locations, name your ad units with exact placement locations. For example "after ad", "home page before content", "category page after ads". Then in your AdSense reports you will see how each ad performs and then remove or tweak bad performing ads.
How to add AdSense code to a website?
AdSense gives you ad code to place on your website. You can get it from the AdSense website by navigating to the "Ads" page. Then choose "By site" or "By ad unit".
By site (automated ads) – is for placing automated ads. They have options for in page ads, anchor and vignette ads. You can place it at the bottom of your pages. They are visible dynamically in different locations. You place the ad code once and forget it. Ad formats can be managed from AdSense website.
By ad unit (manual ads) – is for placing ad boxes manually. This is an old way of adding AdSense ads. Ad units can be placed at exact places on the classifieds website pages.
Now let's see how to place those ads on classifieds websites.
Place AdSense code with widgets
Classifieds website built with ClassiBase has widgets to add custom code to it. AdSense code is also custom HTML code that can be added to websites at various widget locations.
We will be adding AdSense code with a widget.
Follow these steps to add AdSense ad to classifieds website powered by Classibase:
Navigate to "Appearance" -> "Widgets" page on admin panel of your classifieds website.
Select widget location for example "Content bottom"
Click "Add widget" button then select "Text" from popup menu. Text widget allows pasting HTML code.
Widget will be added to the bottom of the list. Click edit button on the right of the widget.
Fill title and text fields. Paste AdSense code to "Text" field. Then check the "Hide title" checkbox. If you have multilingual classifieds website paste ad code to other locales as well by clicking on the locale flag at the top of the popup window.
Set text format field to "HTML / JavaScript".
Check "Ad posting page" from "Hide on following page types" section. We do not want to show ads on ad posting pages.
Then save the text widget.
You can move widget to new position by clicking arrows icon next to the edit button.
Place as many ads as you want if you are using ad units "By ad unit". Place a single widget at the bottom if you are using automated ads "By site".
Check your website for changes. It is advised to blend AdSense ad format with your site's design. Also experiment with ad position, format and size to find best performing settings for your classifieds website.
Types of contextual AdSense ads
There are 2 options to put AdSense to your website.
By site (automated ads) - Place automated ads and manage ad formats from AdSense website.
By ad unit (manual ads) - Place ads manually.
Let's learn each option in detail.
Place automated ads and manage ad formats from AdSense website
Automated ads, also known as "By site", is the latest feature from Google AdSense. It is an easy way of adding ad code. You add given JavaScript code to all pages you want to display an ad. It is invisible code. Then you manage ad placements from Google AdSense website.
I like automated ads because it uses smart algorithms to calculate best placement for the ads. You do not spend time trying to tune ads. Also you can run experiments with automated ads turning on and off some automated ad formats then choose the winner, best performing variation.
Automated ads has 3 ad formats. You can switch on each format individually.
Automated ad format #1: In page ads
In page ads: Ads that appear inside the page at different locations. Google finds the best places to show these ads. It also changes their location so users will not get used to ad locations. In page ads blend nicely to your classifieds website content and design. Click the "Get code" button to copy your custom HTML code for displaying ads on your website.
Automated ad format #2: Anchor ads
Anchor ads: Ads placed at the top or bottom of a page as a sticky bar. It will stay there when you scroll the page as well. So this ad is always visible to users.
Automated ad format #3: Vignette ads
Vignette ads: Ads shown only when a user navigates from one page to another. It is not visible on your page. It is visible between your two pages as a separate page with a full page ad. It looks and feels like a popup ad that appears on page navigation. This is the best performing ad for classifieds websites.
You can try different ad formats for automated ads. If you are like me and do not want to annoy your users then choose vignette ads. I like these ads because they do not make your classifieds website cluttered with ads and it is shown only a couple times to each user so they do not get annoyed by ads.
You can also control the intensity of ads with "Ad load" and exclude some pages from automated ads as well if you need to. For example you may want to remove ads from the homepage if you want.
Automated ads are always responsive and look good on both mobile and desktop devices.
Place ads manually
Manual ads, located in the "By ad unit" section on "Ads" page of AdSense website. Here you can create multiple units and place them individually on your pages. This is an old way of adding AdSense to your website. It has more control over ads that appear on your website. You can tweak the design and size of ad units.
I suggest using responsive units because they adapt well for mobile and desktop devices.
There is a recommended ad unit "Display ads". Think of it as a universal ad unit that will be formatted differently depending on many factors. It can be text ad, banner or image ad, or text with image ad similar to an article snippet. Format will be selected by google algorithm and existing advertisers.
There are 2 reasons to use manual ad units.
Reason #1: Place single ad in best location
Classifieds website is a place where users post listings and search for listed items. They do not want to be destructed with ads that will take them to the other website. If you want to monetize your classifieds website with AdSense and not distract users then place a single ad unit in the best performing location. This way you can earn up to 80% of all possible revenue from AdSense without annoying your users.
Use a single manual ad unit in an exact position on your website. Do not want to clutter your website with automated ads and annoy your users. Automated ads can place many units and sometimes break your site design showing ads in unexpected locations.
Reason #2: Track and find best ad location
If you want to track and tweak manual ads you can create different ad units for each location for your website and name accordingly. For example "After classified ad", "Before ads in category", "Sidebar on homepage". Then in reports you can see how each ad unit performs and maybe change location of bad performing units.
This is an advanced way of tweaking ad positions on your website. It takes time to measure and takes your time to check reports and tweak. Sometimes it is not worth spending too much on tweaking.
With tweaking you can usually double your income. So if you are earning 10$ per month it is not worth tweaking and spending too much time. But if you are earning 500$ then with tweaking you can find the best ad locations and earn 1000$ per month. So measuring and tweaking is preferred when you have enough visitors and already earning good income worth tweaking.
Reason #3: Place ads only on certain page types
There are some page types where you should not place ads. For example ad posting page should not have adsense ads. Because it ha single purpose to post new ads. And there is not content to monetize. Remember that AdSense is contextual ads platform. So it is prohibited to put adsense conde on pages with no content. Pages like ad posting, registration, login, error pages.
In ClassBiase you cannot place any AdSense code on login, registration or error (404) pages. Because there are no widget location on those pages and you cannot place any widgets there.
Technically you can place any custom HTML code, including AdSense code, on ad posting page.
To comply with AdSense usage policy we should not place ads on ad posting pages. For this reason we should make sure that we check "Ad posting page" for not putting AdSense code on those pages.
You can also consider hiding AdSense from your "Home page" or "Info page" (custom pages for example about, contact us etc. ).
Most visited page types are "Category page" and "Ad page". They should get about 90% page views. I recommend putting "ad units" on those pages.
Show cookie consent messages with "By site" ads
When using google AdSense on your website you have to show cookie consent messages for users of EU and California. Google AdSense has a built-in feature to show such messages for qualifying visitors.
You can enable cookie consent messages from "By site" ads. Click on the website you want to add a message then select the "Privacy message" tab on the right.
You can enable "GDPR consent message" and "CCPA privacy message" separately and tweak them if you want. You need to have a Privacy Policy page to enable cookie consent messages.
Important tip: AdSense checks and informs publishers about requirement of cookie consent. It also check your websites and informs you when it is not enabled on your website. When you enable it from AdSense settings make sure that you place ads on your Home page. Because when google checks a website for cookie consent it checks your home page. So make sure that you have AdSense code on home page of your classifieds website.
FAQ
How to add AdSense popup ads?
AdSense  popup ads are "Vignette ads" located in the "Ads"→ "By site" page. Click on the website you want to add a popup ad. If your website is not there then add it first. Then select "Vignette ads" and "Wide screen" checkbox so that popup will be shown on mobile and desktop devices. View vignette ads screenshot inside automated ads #3.
I love popup ads because they are loaded only when users navigate from one page to another. Also it is shown only a couple times to each user so they do not get annoyed by ads.
What is the best ad size/format for classifieds websites?
There are two ad formats that perform best on classifieds websites.
Vignette ads - full screen popup ads. Best for mobile and desktop devices. Does not annoy users and provide highest revenue for your website. Has high visibility rate and high click through rate. It is located in the "By site" section on AdSense website.
On page responsive rectangle ad unit placed after ad listings on category and ad pages. It is added manually and code can be found in the "By ad unit" section on AdSense website.
How much classifieds websites can earn from AdSense?
Earnings depend on website traffic and the country of your visitors. Countries with high salaries tend to compete more for ad space on the internet. With high competition, the price per click rises. If you get 1000 clicks with an average 0.5$ per click your website can earn 500$ per month. Classifieds websites targeted for countries like USA, Canada, UK, Germany, Australia, UAE have high earning potential.
How do I add advertisements to my website?
Advertisement code is usually an HTML code. You can get your ad code by registering with online advertising companies like Google AdSense. After registration you create ad units and get your custom HTML code. Then place your ad code to your website at the desired location with widgets.
Alternatively you can create your own banner advertisement for a website and show it with custom html code. We have created a detailed tutorial explaining the use of banner ads.
Why not to place too many ads on classifieds website?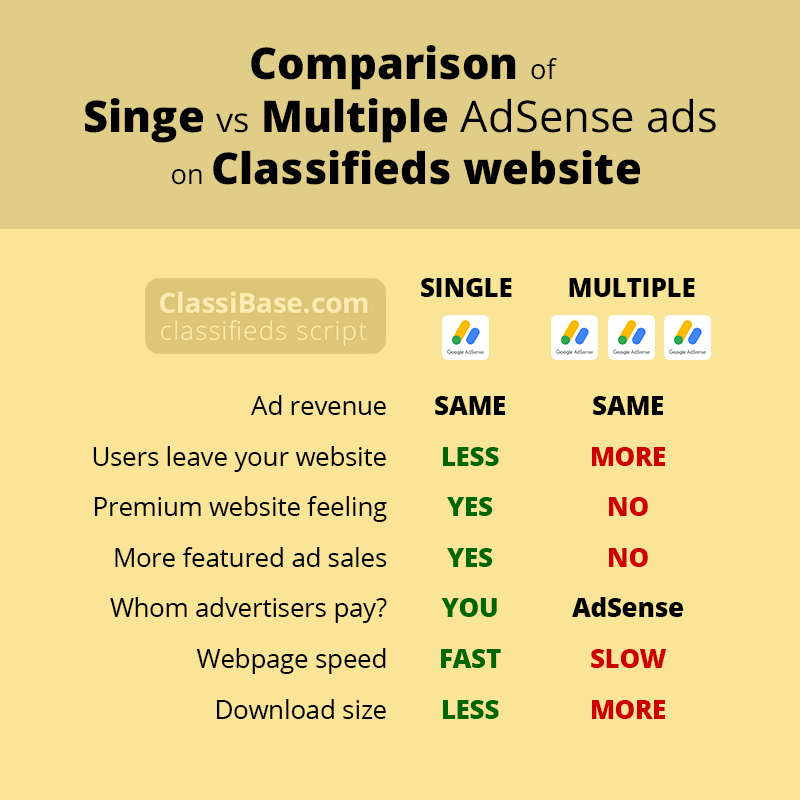 Monetization with ads is not the only way to generate income for classifieds website. Classifieds website is a platform connecting sellers and buyers with built in monetization features that should be your main income stream.
Quality of your classifieds website determined by number of featured (premium, VIP, paid)  listings. Because sellers pay to get more customers (phone calls, service and product sales, job applications, event registrations, attention, exposure) for their listings. Meaning regular listings should already be providing some exposure, so sellers should apply for featured ads to get even more.
External ads like AdSense move buyers from your website to other sites while generating income for you. So it is advised not to place too many ads and keep your users on your classifieds website longer for finding best offers posted by sellers.
With Google AdSense when you place too many ads you get more clicks but value per click for them will drop. Because AdSense ads are priced by bid. Advertisers pay more to get first ad spot (most visible, most clicked spot) on your web page. They pay less to get other 2 nd and further spots. When you place single AdSense ad on your page it earns almost same amount compared to placing more ads on one page.
This means single AdSense ad per page generates same income with multiple AdSense ads per page while keeping more users on your classifieds website.
Using single AdSense ad is what I found experimenting on my classifieds website over many years. You should also conduct regular experiments with AdSense ads to find optimal number of ads per page. Test with single ad one month. Then test with multiple ads next month and see which generates more income per month. Use winning combination for your website.
7 benefits of putting single AdSense ad per page on classifieds website:
Buyers stay longer on your website.
Sellers more likely to promote their regular listings to featured ones. More featured listing earnings.
More sellers pay you for featured listings instead of Google AdSense.
Single AdSense ad unit generates almost same income compared to multiple ad unites per page.
Reduced bounce rate for better SEO and more traffic to your website.
Faster website with less resources used for external ads.
Visually premium website feeling with less ads.
Conclusion on monetizing classifieds website with AdSense
We explained how to create an AdSense account and get your ad code. Where and how to place AdSense code on your website with widgets. Found best performing ads using AdSense for years on our classifieds website. They are "Vignette ads" and on page "Ad unit" placed after ad.
There are many ways to monetize classifieds websites. AdSense is the easiest one of them. You just place AdSense code and all the hard work monetizing your website is done by google. I cannot say that it is the most profitable way of monetization but it is the simplest way to start monetizing your website.
While external ads are easy to implement, try to maximize your revenue with paid and featured classified listings. Featured classified ads should be your major income source. It should provide a good return to the advertiser when compared with regular ads. It also keeps your users on your website and encourages them to make their own listings featured. Learn more about selling featured ads.
Now you know how to place AdSense ads on your classifieds website. Start earning and providing value in your community.